Selling Your Home? Here Are 7 Home Renovation Ideas
There are lots of reasons to renovate your home, but a popular one is when owners are planning to sell. The idea is that the property gets an upgrade, and the renovations send the asking price through the roof.
It's a tempting idea, but at My Build My Way we've seen some homeowners get their fingers burnt, simply because the renovations they chose didn't make back the money they spent.
Based on years of experience in the home renovation sector, here are My Build My Way's top 7 tips for renovating for a resale. We've chosen the projects that attract buyers and can differentiate your property from all the rest.
---
1. Clear Out the Carpets
Many buyers dislike carpets, and even if they like them, they have very specific preferences. Flooring is a dominant feature, and one that could make a real difference with buyers. If your floors need attention, a good option is to re-sand and seal existing timber floors. These open up the space and can look stunning with the addition of attractive rugs.
2. Modernise Your Kitchen
This is always in the top 5 renovations that add value to your home, so it's well worth doing. This may not necessarily mean ripping out and starting over. Here's 3 ways to upgrade simply:
Replace your kitchen cabinets or give them a fresh coat of paint.
New worktops are an extremely effective upgrade. Marble and quartz are attractive, practical and will make your kitchen look high-end.
New Appliances are always desirable. They should be energy efficient and fully integrated into the style and décor of the kitchen.
3. Turn Your Bathroom Into a Spa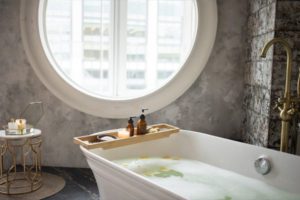 It's no longer enough to have a perfectly functioning bathroom; buyers are looking for a luxurious space that will allow them to relax and unwind. Underfloor heating is considered the ultimate bathroom luxury, and it allows you to get rid of ugly radiators. Also popular is the power shower which remains a firm luxury favourite.
4. Open Up Your Space
Airy, spacious homes are very much in demand. Take a look at the layout of your home and think about ways in which you could improve the flow or add more natural light. Removing a non-structural wall is a great option, especially if your rooms are quite small. Alternatively, adding an attractive skylight to your stairway can add height and transform the space. Or, if you're feeling brave, you might think about undertaking a loft conversion.
5. Enhance Your Energy Efficiency
It unsurprising that this is rapidly rising in the list of desirable renovations. Energy efficient homes are the future, so give your buyers a head start by demonstrating your environmental future planning. You could upgrade your double glazing, insulate your home for enhanced heat retention, or even install a heat pump to cut down on energy usage.
6. Be Clever With Storage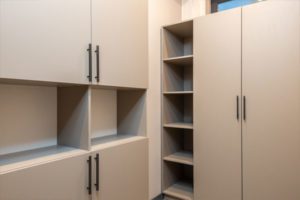 In the UK we like minimalism but love hoarding, which is why clever storage will always be a winner with buyers. Don't waste recesses, or understairs spaces – turn them into carefully designed storage areas. Think about cleverly positioned shelves and cupboards that save floorspace and include built in containers offering smart storage solutions.
7. Decorate Your Property
At one time the received wisdom was to leave the decorating to buyers as they would want to stamp their own identity. This is no longer the case. What buyers want to see is a well-maintained home (no cracks in the plaster, or Artex ceilings) that's been finished to a neutral colour. Then they can take their time deciding how they want to decorate.
---
My Build My Way Takes the Stress Out of Home Renovation
My Build My Way is an introductory service for clients who need construction work doing. We'll put you in touch with verified builders who have been thoroughly vetted by us. We only work with Trustmark approved building companies. This eliminates the possibility of you hiring cowboy builders who'll leave work undone or inflate prices.
If you have plans in place for the work you want done, and you're ready to start, we'll get quotes and find to top 3 to pass onto you. Our job is to ensure you get the right builder at the right price while guaranteeing high-quality workmanship. Once you've found the right contractor for your project, using our 8 stage process, we'll quality check each stage before releasing payment.
---
Inspired by My Build My Way's top 7 tips for renovating for a resale? Now let us find you a builder to carry out the work. Give us a call on 0800 2465453 or message us online.