What's Involved in Extending Your Semi-Detached Home?
Around a third of properties in the UK are semi-detached houses. If you live in one, you may already have a few ideas about how you could use the gap between your property and the next, but there's also the option of extending up, into the garden, or over an existing extension. In this article, the My Build My Way team look at 5 semi-detached house extension ideas, and what's involved in making them happen.
---
Table of Contents
---
Why Extend Your Home?
Just imagine what you could do with an extra bedroom, a bigger kitchen, or a second bathroom. If you're thinking of starting a family, or you've simply outgrown your home, building an extension could provide a simpler solution than moving the family elsewhere. Adding space can also add more natural light to parts of your home that are lacking it. Not forgetting that a carefully designed extension may increase the value of your property.
5 Semi-Detached House Extension Ideas
There are all kinds of ways your home can be transformed by taking advantage of the space around your property.
1. Extend Your Kitchen to the Side
The side-return extension is probably the simplest option. Use the space at the side of your house to increase the size of your kitchen or make an open-plan kitchen/diner space. Windows offer the biggest challenge here, as you're closing the gap between your property and your neighbour's. An elegant solution comes in the form of roof windows which also create a lighting feature all of their own.
2. Create a Garden Extension
Stealing a little of your garden to create a larger living space is a simple and attractive way to extend your property. You can make the most of the views over your garden by designing in large windows to provide maximum natural light. Including a door leading onto the patio allows for the creation of a blend between indoor and outdoor space from late Spring through to early Autumn.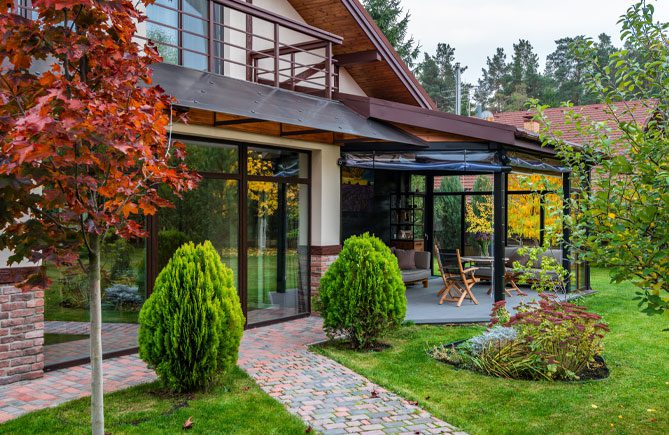 3. Dig Down for an Extra Floor
Adding a basement floor is a more complex process than the first two suggestions. It requires planning permission, and the build can take up to 5 months. These challenges may however be outweighed by the benefits it brings. You gain a whole new floor to your home, with the opportunity to create bedrooms, a workspace, a chill/playroom. The basement option is truly transformational.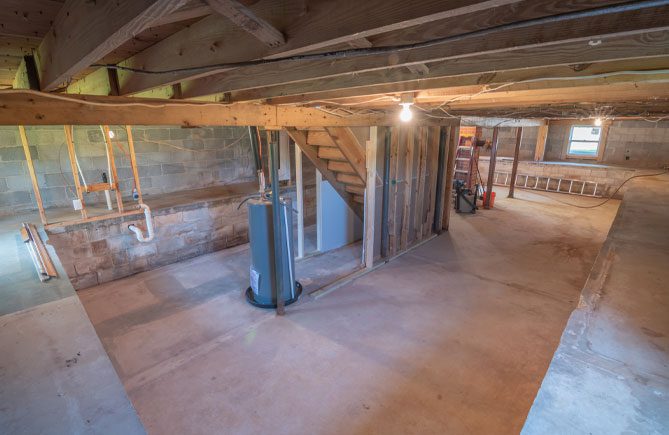 4. Add Two Storeys
If you're prepared to put up with the inconvenience of construction work to gain more space, why not add two storeys rather than just one? You will gain more living space on the ground floor, and an extra bedroom or study above it. If you love the look of your home, think about matching the brickwork of your new extension to that of the rest of your property.
5. Build Upwards
If you're thinking of optimising your loft or attic space, it's a great way to extend the room you have. There are 3 types of loft conversion to choose from:
Dormer. A structure that resembles a box is fitted to your pitched roof. This creates walls that sit at 90 degrees to the floor and expands both the head and floor space of your loft.
Mansard. A Mansard conversion is similar to the Dormer in that a structure with a horizontal roof is added to the back of your property. The Mansard gives slightly less headroom, though.
Hip to Gable. A side hip roof (inwardly slanted) is straightened to create a vertical wall. This transforms the hip roof to a gable one and creates the structure you need for an extra room.
---
Planning Permission
Permitted development rights allow you to extend a semi-detached house by 3 (and in some cases 6) metres from the rear. This avoids a planning permission application. There are various criteria that apply to permitted development however, so you will need to check that your extension would be allowed with reference to them.
If you need to make a full application for planning permission this should be done alongside your architect.
What Value will an Extension Add to Your Home?
There's no doubt that an extension on a semi-detached property is desirable to buyers. If it adds an extra bedroom, for example, it could increase the value of the property by up to 20%. Where added value is your prime objective, do your research carefully before proceeding. Ensure that you're adding space that is in demand and check out the ceiling price for semi-detached properties in your area.
---
Are You Ready to Extend Your Semi-Detached House?
Whichever one of our 5 semi-detached house extension ideas you think would work for you My Build My Way can help you to turn it into reality. Whether you need an architect to help you design the perfect space, or you're looking for trustworthy local builders, we can provide a stress-free process.
Our skilled designers discover what you need and translate it into architectural drawings. We then handle the planning process on your behalf. If you're ready for the build to begin, we can introduce you to verified local builders, and manage the construction process for you.
---
Best of all, our service is absolutely free to use. Like to find out more? Call us today on 0800 2465453.