The Trends That Are Reshaping Our Kitchens
Kitchens are the busy hub of the home and so it's natural that they should reflect our values, taste, aspirations, and lifestyles. At present the focus is on kitchens as a blended space where families share time together. This has generated a desire for flexible multi-use designs that combine work, creativity, and leisure. With this in mind, the My Build My Way team has selected our favourite 4 kitchen remodel ideas.
---
1. Kitchen Home Offices
A dangerous idea, you may think. Far to close to the fridge! In spite of this, the kitchen home office is thriving. There's a spectrum of solutions out there, from utilising cupboards as workspaces, or fold down desks, to the creation a kitchen remodel that creates a quiet corner in which to install an office that can be used at any time of the day.
If you do decide to double up your kitchen as your workspace, be realistic about the space you'll need to do so. If you are utilising cupboard space, make sure that you've thought through some smart storage solutions so that everything you need is to hand. Most important, adapt the space to suit your requirement, don't try to squeeze in to what already exists.
2. Sustainable Kitchens
At My Build My Way we're seeing a much sharper focus on sustainability from our clients right now. Often this is a long-term project that allows for a growing awareness of what options are available. The most popular choices are:
Salvaged Materials. This allows a kitchen to grow around found materials. It's a creative process that yields inspiring results. Think salvaged timber, tiles, and chairs. If you're looking to buy salvaged goods, look for retailers signed up to the Salvo Code.
Recycled Worktops and Floors. Worktops made from recycled glass, wood, or even concrete are a stylish sustainable addition to your kitchen. For the flooring, you could recycle by polishing an existing concrete slab. Alternatively, you could install renewable bamboo or cork flooring.
Go Local. If you have a vision for the kind of kitchen you want but you don't want to salvage your materials yourself, a local company that uses sustainable materials is the ideal solution.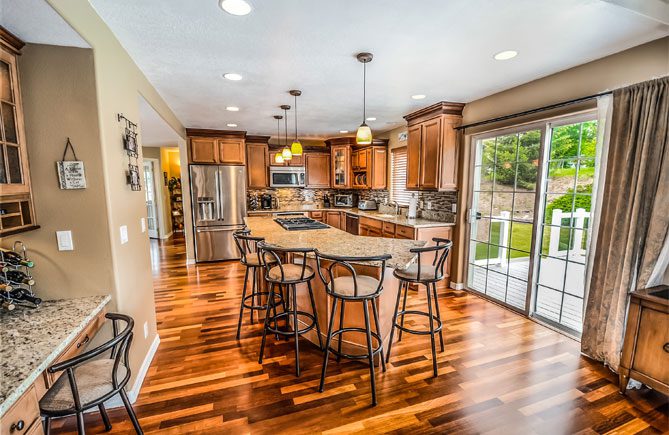 3. Build a Booth for Dining
Built in joinery is a stylish addition to any room in the house, but the kitchen dining booth is definitely the favourite of our 4 kitchen remodel ideas. It's an efficient use of space, and the wood makes an excellent contrast with other materials in the kitchen. The use of colourful cushions makes this a cosy and compact way to enjoy dining in your kitchen area.
4. The Multi-Functional Space
For a while now, the kitchen has ceased to be a space with just one function. Now we're seeing the development of a living space where cooking happens. This is an open plan space which incorporates worktops and appliances, but also easy chairs, bookshelves, small tables, and cabinets.
A multi-functional kitchen looks like it's evolved naturally to fulfil the needs of all family members. Guests are no longer steered to a designated spot, they sit or stand where they feel comfortable, and enjoy the options the space affords them.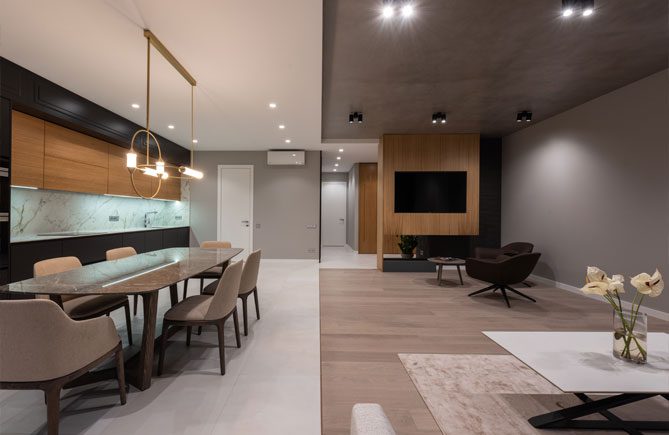 ---
My Build My Way Can Help With Your Kitchen Remodel
If you're excited to adapt your kitchen space to support your lifestyle, My Build My Way is here to help. How do we do it? By introducing you to architects or local builders offering top-quality work at competitive prices.
If you already have your kitchen remodel plans in place, we can put you in touch with local builders who we have verified. My Build My Way works with Trustmark approved building companies, so we are able to vouch for their reliability and trustworthiness.
We request quotes for the work you want doing, select the top 3, and pass them on to you. Our goal is to get you the right architect, or builder, at the right price without compromising on quality workmanship. Once you've found the right contractor for your project, using our 8-stage process, we will quality check the work at each stage.
---
If one of our 4 kitchen remodel ideas has inspired you, we can introduce you to an architect or builder to take your project to the next stage. Give us a call on 0800 2465453 or message us online.