Are You Dreaming of Home Improvements for the Coming Year?
As December rolls around it's time to let go of all the good intentions you had to improve your property in 2022 and start dreaming of the changes you'd like to make in the coming year. Whether you're wanting to add value to your property, or you need to adapt your home environment to reflect changes in your life, the My Build My Way team have been taking a look at 4 home improvement trends for 2023.
---
There are some themes that we've seen emerging as we head into the New Year. Sustainability is a front and centre concern for people at the moment, and this is reflected in the choices they make for their homes. Natural light is also a priority, and the home as a place of comfort, safety and wellness is increasingly important.
4 Home Improvement Trends for 2023
---
Table of Contents
---
1. Sustainably Sourced Materials
In 2023 the desire to recycle and re-use materials will be everywhere, from clothing to packaging to home interiors. Rather than assuming that the flooring, furniture, or wallpaper is sustainably sourced, the trend is for homeowners to either work with sustainable suppliers they trust, or simply to go out and find the materials themselves.
Here are the items and 'looks' that are likely to turn up in the coming year:
Recycled wooden floorboards, kitchen tables, or worktops.
Polished concrete floors utilising the original concrete.
Locally crafted items around the house, using recycled materials.
Sustainable fabrics used for throws, rugs and cushions.
2. Turn Your Bathroom Into a Spa
The luxury spa bathroom is a perennial home improvement trend and it's certainly not going anywhere in the near future. In fact, the individual spend on a new bathroom has increased by 61%, or £7.5k since 2013. The trend for a spa bathroom was born a few years ago, but the last couple of years have seen increased concern around water efficiency, with eco-friendly showers being the most popular item.
There's also a growing trend for additional bathrooms, driven by the increase in multi-generational households across the UK. This is likely to continue as children find it financially difficult to leave the family home, making a second, or third bathroom a priority.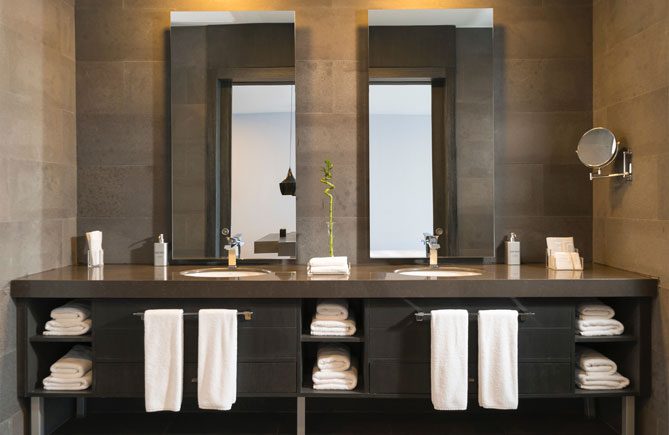 3. Internal Louvres and Large Windows
Our quest for natural light continues. One clever idea that is likely to become popular in 2023 is the internal louvre window. These are ideal for kitchen extensions as they maximise the available natural light, without turning the space into a greenhouse in the summer. The slats can be angled to maintain the natural light but deflect the rays that raise the temperature.
For integral rooms, the use of large window banks is a current trend in interior design. Chose a north-facing wall to position your windows and create a floor-to-ceiling feature. Your room will immediately feel bigger, more expansive and drenched in natural light.
4. WFH Solutions
Working from home was expected to fall away in 2022, but in fact, home office purchases have remained stable. ONS figures show that 1 in 7 office workers in the UK now work – at least part-time – from home.
2023 is likely to see more innovative uses of adapted kitchen worktops, under the stairs offices and foldaway workspaces. We also expect the trend for garden room home offices to continue to grow, alongside extensions that are build specifically for this purpose.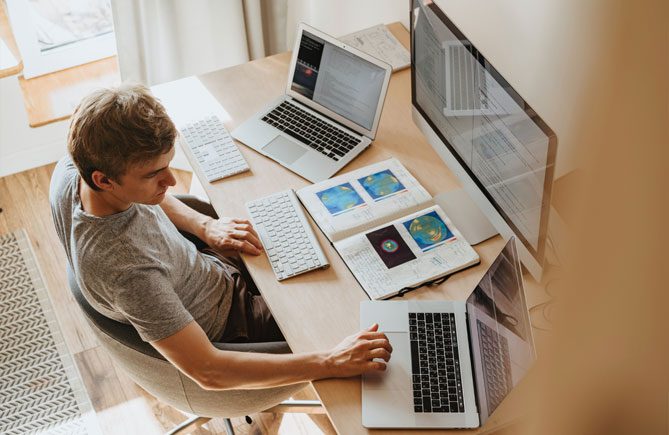 ---
Let My Build My Way Help With Your 2023 Home Improvements
My Build My Way helps homeowners to refurbish, add to or improve their property. How do we do it? By introducing them to architects and reliable local builders offering top-quality support at competitive prices.
If you already have your plans in place for a home renovation, we can put you in touch with local builders who have been verified by us. We work solely with Trustmark approved building companies, so we can guarantee that they're reliable and trustworthy.
We'll request quotes for the work you want doing and pass the top 3 onto you. Our job is to make sure you find the right builder at the right price without compromising on top-quality workmanship. Once you've found your contractor, using our 8-stage process, we will arrange a building inspector to quality check the work at each stage.
---
If one of our 4 home improvement trends for 2023 has inspired you, we can introduce you to an architect or builder to take your project to the next stage in the New Year. Give us a call on 0800 2465453 or message us online.