4 Ways Case Studies Can Win You Work
When it comes to marketing your construction business, there's a tool that can take you from being just another building company to a standout success story. The 'case study' can make all the difference when clients are trying to decide between two different home improvement quotes. At My Build My Way we see it happen all the time.
At the heart of it, case studies are way more than just words on paper, they're success stories that paint a picture for potential clients of what you're capable of producing. These brief overviews of your home improvement construction services serve as compelling showcases of your abilities.
Why Are Construction Case Studies Important?
Why are construction case studies so important? The answer is simple: they offer potential clients the evidence they need to decide whether you're right for the job. When people are about to make an investment in their home, they want proof that they are making the right choice. Case studies offer the evidence they need to confidently sign on the dotted line.
Potential clients who are able to read a vivid account of a homeowner delighted by the changes you have made to their home, will have the social proof they need to think: "If they were capable of delivering such exceptional results for this homeowner, they have the potential to work the same magic on my home."
Ready to start creating your case study portfolio? Read on to find out how to write successful case studies for construction marketing.
What Kind of Case Studies Should You Create?
There are endless stories to tell about home improvement construction work, so you shouldn't have any problem finding the content. What you're looking for though, are the jobs that can be turned into great stories. Here's the kind of thing you're looking for:
A complicated renovation that just kept throwing new challenges your way. Nevertheless, you completed it successfully and to the deadline.
The first time you tackled a particular home improvement task. What were the unknowns? How did you go about it?
A refurbishment on a tight budget. What were the ways in which you delivered for the client by being creative, and ultra efficient.
A project that was beset by terrible weather, or events beyond your control, and how you managed to overcome these problems.
What do You Need to Create Successful Case Studies?
Putting together a portfolio of construction case studies might just be the game-changer your business needs. The process is straightforward:
Carry out a brief interview with a satisfied client.
Write up the case study with as much detail as possible.
Include quotes from your client.
Add stunning project photos; before and after, in-progress, the team at work on site.
Publish it on your website.
Looking for guidance on how to write a construction case study? Click here for some great examples. 
4 Ways Case Studies Can Win You Work
Once you have a selection of case studies, it's useful to know how to present them in order to get the best results:
1. Case Studies Offer Social Proof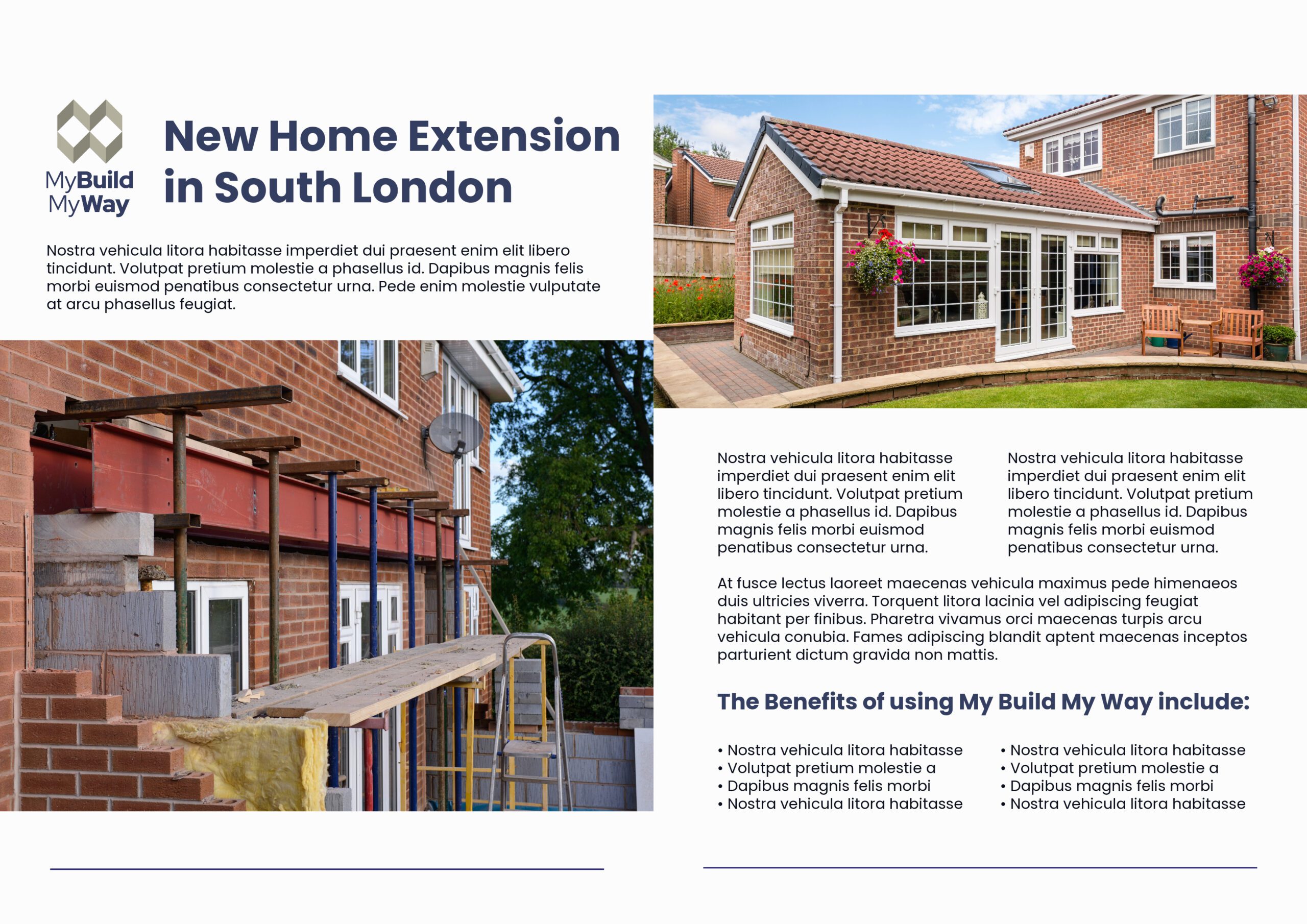 Word-of-mouth advertising is worth its weight in gold, but it's not the only way to get new business. As a design and build company, My Build My Way sees the huge role construction case studies play in helping clients find builders who are local, skilled, and available for their budget and their schedule.
Our home improvement clients tell us that reading about previous client experiences helps enormously as they try to decide which construction quote to go with. In an industry where customer satisfaction and visual results matter immensely, case studies can shine a spotlight on the very best of your projects.
A construction case study is like a site visit that happens virtually. It can help to convert potential clients simply by turning their renovation idea into a reality they can see. By publishing a case study, you're reassuring your audience that others have had positive and successful experiences with your company.
2. Case Studies Can Inspire Clients
It's not always easy for clients to be able to imagine what a loft conversion, or new bathroom will actually look like. If they're experiencing difficulty, some professional help is often greatly appreciated.
Case studies can be the perfect way to do this, by showcasing what's possible, and demonstrating how your construction business can make it happen. Case studies that show before and after images are both an inspiration to clients, and an example of the expertise your business brings to the project.
3. Make the Most of Your Content
Case studies may seem like a lot of effort to pull together but they can be used in a number of different ways:
Post project photos on social media.
Use edited videos of client interviews on your website (with their permission).
Include links to videos or case studies in email marketing campaigns.
Create an image gallery on your website which builds with each project.
From just one case study you can create a range of effective marketing resources that can be used again and again.
4. Provide The Evidence Clients Require
Home improvement projects are a major investment for homeowners, so clients are understandably cautious when choosing which company to entrust that investment with.
Your case studies present solid evidence of your work, and reviews from real clients, in a user-friendly format. They can also demonstrate the ways in which cost-savings were made, to further encourage prospective clients to have trust in your ability to deliver value for money.
The more marketing strategies a construction company employs to differentiate their work and build client relationships, the more successful their business is likely to be.
Work With My Build My Way
My Build My Way has a clearly defined goal; to improve the residential building sector. Having spent years in the construction industry, we know the kind of challenges that builders face every day.
At My Build My Way we provide high-quality home improvement leads to contractors and peace-of-mind to homeowners. Our promise to builders is simple – we've got your back. We pre-qualify every project we offer, guaranteeing top-quality leads and minimising your risk.
---
Want to find out more about My Build My Way? Call us today to talk to one of our team – 0333 772 2356