Is 2023 a Good Year to Add a House Extension?
For anyone trying to decide whether to add an extension to their home or sell, right now, there are all kinds of moving pieces to consider. Changes in the mortgage rate have made movers more jittery, so there's growing momentum to expand your existing home instead. However, rising prices due to building materials and a labour shortage are causing homeowners to pause for thought.
At My Build My Way we talk to a lot of people who are facing this dilemma, as well as hearing from builders and architects about their perspectives on the current state of play. In this article we take a look at the key factors to consider and offer some advice on how to keep your costs down if you do decide to add an extension to your home.
---
The UK Property Market in 2023
Due to Bank of England base rates rising month on month, mortgage rates have risen sharply. This leaves people with a property to sell unsure as to whether the time is right, and buyers are tending to wait and see whether rates – and house prices – drop in the course of the year. Prices are currently fluctuating so, to understand the picture in your area, it would be a good idea to speak to local estate agents.
The State of the UK Construction Industry
There appears to be some reason for optimism as builders are reporting a drop in the prices of construction materials after last year's highs. My Build My Way is finding that one of the major issues for our customers is an inability to find high quality builders who aren't booked up months in advance. This is a problem, but we are working with some of the top UK contractors to source reputable builders who can take on work.
The Pros and Cons of Moving
When it's clear that your current home is no longer large enough for your family, it's tempting to sell up and find a house that's perfect for what you need. Whilst moving is usually more expensive than adding an extension, it does save you the stress of finding builders, and managing the mess of the construction phase. It will also give you the opportunity to move to a new area if that's something you're looking to do.
The cons of moving include leaving a house you've invested in, and which you may have a strong emotional attachment to. However much you love your new house, it's probably the case that you'll want to decorate – so there will be disruption and added expense anyway. Finally, there's a chance that you'll get less than you expected for your property, whereas an extension would add value to your property.
The Pros and Cons of Extending
If you choose to add an extension to your house, such as a loft conversion, or a living space extension, you will add value to your home. A carefully planned extension, developed collaboratively with an architect, can make the most of the space you have and transform existing areas of the house. You could end up with a house that serves your needs, without needing to leave your garden, your neighbours, or schools.
The cons of opting to add an extension to your house include ongoing uncertainty about the price of construction materials, their availability, and being able to find local builders to do the work. You will experience a period of disruption, which will need to be carefully planned for, and there is no guarantee that you will recoup your entire investment when you decide to sell your property.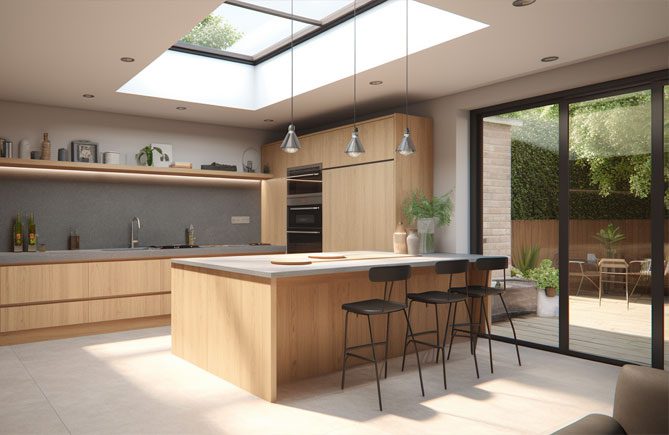 Ways to Lower the Cost of an Extension
My Build My Way asked the builders we work with for their tips to bring down the costs of adding an extension. They recommend:
Check out local suppliers for the best prices as the supply chain crisis has tended to increase costs on some imported goods.
Avoid complicated groundworks involving sewers or trees – as this piles on the cost.
Take delivery of materials immediately after purchase, just in case the provider becomes insolvent.
Don't overspend on features, work out what you can compromise on without losing your vision.
Use off-the-shelf products where possible, then modify them with bespoke components.
---
Ready to Add an Extension to Your Home?
If you decide on an extension for your home, My Build My Way can help. We are a build and design business; our introduction service puts clients in touch with architects or reliable local builders offering high-quality support at competitive prices.
If you already have extension plans drawn up, we provide quotes from verified local builders who would be appropriate to your project. We work with leading UK contractors to ensure that the introductions we make are appropriate to the type of build, and the client's timeframe.
Our job is to make sure you find the right contractor at the right price without compromising on top-quality workmanship. Once you've made your choice, we will arrange a building inspector to quality check the work at each stage.
---
If you plan to add an extension to your home this year, or next, we can introduce you to an architect or builder to take your project to the next stage. Give us a call on 0333 772 2356 or message us.